< Back to Community News
The Local Lens: AHA Moments & Wildfire
September 14, 2022 | Linda Offerdahl
AHA Moments…TAHOE FORUM on Friday! We have a rare opportunity to listen to entrepreneur extraordinaire Sir Richard Branson and marine artist and conservationist Guy Harvey at AHA moments at UNR at Lake Tahoe Friday at 2 p.m. These two speakers represent the best of the higher education institution housed in Incline Village: arts, environment, and entrepreneurship. Formerly Sierra Nevada College/University and now UNR at Lake Tahoe, is carrying out the vision of Nancy Siebens Binz for a community event that would bring extraordinary people to Incline Village for the education of all. Ms. Binz is an important benefactor of Sierra Nevada College, working tirelessly to bring private higher education to our community. She herself was instrumental in bringing such people as Madame Sadat from Egypt, Steve Jobs, and Maye Musk, to Incline over the years. Learn more in our Tahoe Forum UNR Reno at Lake Tahoe community profile.
FIRE DANGER AND SMOKE
We were so fortunate to have July and August free of smoke, it was easy to forget that the fire season is usually in the fall. We run the risk of canceled events due to smoke, but hopefully not be any serious risk to our homes. My heart goes out to those suffering loss in the Mosquito fire area along with myriad other fires. That potential risk is wreaking havoc with many of us in Incline Village and Crystal Bay regarding fire insurance. The cost of insurance and cancelation of policies is affecting many residents. Parasol Tahoe initiated action through its Tahoe Communities Fire Forum in June, bringing together the two Tahoe Nevada fire chiefs, Menath Insurance, and other agencies. Please take Parasol's fire insurance survey if you have not done so already. Think about donating to their Tahoe Fire Safe Fund! Mike Menath (IVCBA founding member) is working with the Department of Insurance to resolve some of the issues at the state level, as well as come up with alternative policies for their clients. State Farm (IVCBA Local Business member) is still able to write their "all-peril" policies in Nevada and is working with other insurance agencies in Incline Village. We look to Parasol Tahoe to update us soon on this communitywide initiative.
TAHOE JANE BIZBUZ MIXER was a success!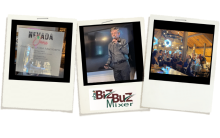 OK, I don't usually talk about things afterward, BUT this IVCBA mixer last night was such a success, watch for the next one! Meet other locals, support a business, and hear about a local issue. What a great combination! Thank you to Nellie, Jonas, and the staff at Tahoe Jane.
Great Sierra Beach Clean-up on Saturday
Check in at the Rec Center at 9:00 a.m. to pick up supplies! And thanks to IVGID, Carolyn Usinger, and Ben Doeffler for making "Hero Sticks", a combo walking stick, trash grabber, and bag available from the Rec Center too. The concept is "Care for Tahoe and be a Hero!".
2nd Annual Mexican Heritage Festival in Truckee on Friday
There are so few opportunities to celebrate our ethnic diversity, I really encourage everyone to support this event on Friday. And how do we get something like that in Incline?
MARK YOUR CALENDAR
Saturday, September 17: Kids and Horses event at the Crystal Bay Club September 18 Golf from the Heart, the IVCH Women's Auxiliary Golf Tournament
Tuesday, Sept 20: IVCBA Welcome new members and residents at Mountain Workspace @ 4:30 p.m.
Thursday, Sept 22: Wild Encounters Artist Reception at Mountain Workspace @ 4:30 p.m.
Tuesday, Sept 27: Inclined to Meet Town Hall @ the Chateau at 6 p.m. Learn about the City of Incline Village from Todd Lowe and Kevin Lyons.
Visit our local events calendar on IVCBA.org for more great things to do and experience.