< Back to Community News
The Local Lens – Who's a Local?
March 2, 2022 | Linda Offerdahl
I started and ran a business in 2006 called Dress the Party, and it was full of "stuff" purchased from Halloween trade shows to vintage finds from thrift stores. What defines vintage? A rule of thumb is something that is three decades old. A similar rule can be applied to the definition of a local. A lot of people think a local is someone who has lived here longer than they have. For me, that is Diane and Jim Fisher and Suzanne Schell, friends who moved here in the 1970s. Richard and I have only been here since 1988.
I find a more useful definition of a "local" to be someone who lives or works here and wants to be active in the community, regardless of how long they have been here. That involvement can be civic, volunteer, social, or active in "taking care of Tahoe". Here are my top picks for the week for involvement:
Volunteer:
Social: March is a great month to support our local schools.
Culture: Attend the Artist Reception for Monika "Piper" Johnson and Liz Paganelli at the Mountain Workspace Art Gallery (885 Tahoe Boulevard) on Thursday, March 3 from 4:30-6 pm.
Take Care Tahoe: Take a page out of Carolyn Usinger or my husband Richard's book: if you see trash in your neighborhood or on a trail, pick it up! Learn more about the Take Care Tahoe campaign.
Civic: Attend the Washoe County Citizen Advisory Board meeting on Monday, March 7 at 5:30 pm. Since the Washoe County Board of Commissioners changed the format of the "CAB", it has become a "don't miss" meeting on IVCB current affairs. On March 7, NLTFPD will provide an update on to what they have learned from the latest fire season and what to expect in the future, including emergency evacuation plans and procedures. Our commissioner Alexis Hill was instrumental in making these changes. Several "locals" are on the Citizen Advisory Board including the Chair, Diane Becker, who does an outstanding job running those meetings.
LOCAL BUSINESS
Many business owners can no longer afford to live here. That does not make them any less of a local, IMO. Doug Brown runs the Chevron station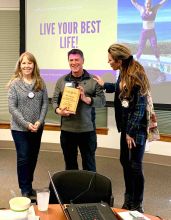 kitty-corner from 7-11. Doug just received an "Outstanding Community Partner" award from the Rotary Club of Incline Village. His staff helps Rotary with the small garden in front of the station. The Chevron is famous for allowing fundraising car washes in their parking lot….and of course, the outstanding auto service; I just bought a set of new tires from Doug.
BUSINESS NEWS
The Piper J Art Gallery on Village closed at the end of February. Monika moved to Truckee (about that affordable housing…) Watch for a grand opening at 10153 West River Street later this month. Piper J Art Gallery will continue to feature local artists like Liz Paganelli. For many of us, Monika used to be our hairdresser. Come say farewell on Thursday at the Mountain Workspace Art Gallery, 885 Tahoe Blvd. from 4:30- 6 pm at a reception featuring the installation of her work, along with Liz Paganelli's mixed media series, The Raven's Alphabet. Learn more about both artists here.
What's your favorite local business? What's new in your business? Send your story to me, Linda@IVCBA.org.
"NEWBIES"
If you see someone you don't recognize at Raley's or the post office, introduce yourself! They may be a visitor…why not be friendly…or they just might be one of the many new residents we have that are trying to figure out how to be a local as soon as they can.
NEXT WEEK: Local News
About the Author Linda Offerdahl
Linda Offerdahl, IVCBA's Executive Director, is a 34-year resident of Incline Village. After careers in education and computer product management, she and her husband Richard moved to Incline Village to raise a family and support the community and its endless recreational and business assets.